ASCE's Game Changers Award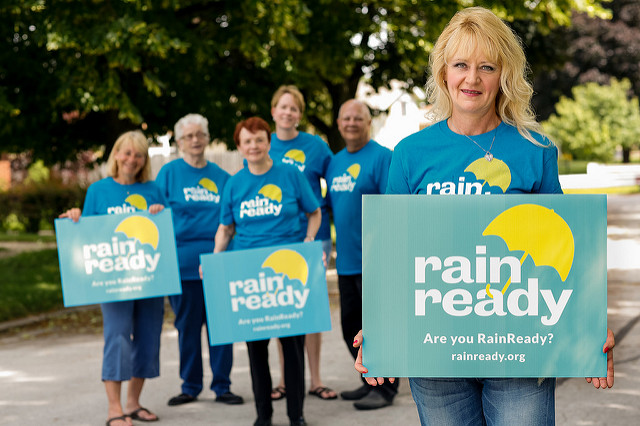 We are honored to share the news that RainReady Midlothian has been designated as one of 15 new Infrastructure Game Changers by the American Society of Civil Engineers (ASCE). The new Game Changers are "groundbreaking infrastructure projects that represent the latest trends in transportation, water, freight, and energy infrastructure", and that are "changing the way we plan and build projects to address our nation's infrastructure needs." Game Changers was developed by ASCE's Committee on America's Infrastructure, also responsible for ASCE's Report Card for America's Infrastructure, and spans the 16 categories of infrastructure graded in the Report Card, and come from across the United States.
As noted by ASCE, Midlothian, Illinois lacked the financial resources necessary to tackle the chronic flooding affecting residents in the village. CNT's RainReady program worked with the Village trustees and the amazing group of residents, Floodlothian Midlothian, to develop a multi-pronged flood plan called RainReady Midlothian. The work was done in partnership with the U.S. Army Corps of Engineers and the Metropolitan Water Reclamation District of Greater Chicago (MWRD).
It's been a good year for RainReady: the Midlothian work was awarded the Public Outreach Award by the Illinois Association for Floodplain and Stomwater Management, in June the program won the Association of State Floodplain Managers (ASFPM) National 2016 James Lee Witt Local Award for Excellence in Floodplain Management, and in August the Metropolitan Water Reclamation District of Greater Chicago (MWRD) Board of Commissioners (BOC) honored CNT leaders and staff with a resolution.
The RainReady Midlothian work was generously supported with grants from The Boeing Company, Grand Victoria Foundation, the Joyce Foundation, the Charles Stewart Mott Foundation, the Prince Charitable Trusts, and the Surdna Foundation.