Flood Survivor: Arles Price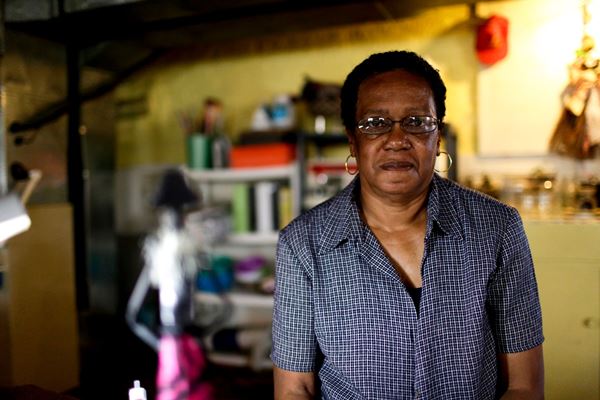 The worst part of the flooding isn't the water itself but the stuff that comes up.
Used tampons. Urine. Dirty water likely intermixed with fecal material.  And when the water finally recedes? The smell. And then? The mold.
The constant circular motions repeat themselves weekly: rain, watch the basement, flood, watch it recede, pour down bleach, mop it out, rinse and repeat.  Eventually this gets tiresome. But the Prices are toughing it out and in it for the long haul because this tidy little house on the far southern end of Ada Street just south of Chicago is their home. Their castle.
They finally fixed the seepage by hiring a professional waterproofer, but now they need permanent solutions on how to deal with the bloated brown and black tampons that somehow travel from the sewer system to inside their home after every rain.
"Their solution is to put in an overhead sewer which costs up to $10,000," says Arles Price, a secretary who is the main worker bee and breadwinner for her household now that her husband Leon, a retired bank vice president, is disabled.  The couple has already spent several thousand over the years on fixes that never worked. They're angry that flooding was disclosed when they purchased their home.
 "Not everybody has ten thousand to invest into an overhead sewer or even five thousand for something else," says Price. "My husband and I are both senior citizens and we've got all these repairs that have to be done to our home and there's no help from anywhere."
The Prices live in Calumet Park, one of a handful of Southland Chicago suburbs that are home to pockets of areas that suffer mightily even after a light drizzle, let alone a torrential downpour.  Before their recently installed basement water proofing, seepage would pour down the wall of the Ada ranch home after it rained. And that was in addition to sewage bubbling up via the drainpipe in the basement floor. Arles, a quilter, has become a seer of sorts. She looks to the sky for signs that it's time to descend into her basement move her boxes of fabric off the floor.
She and the neighbors even have a makeshift rain hotline. Once Price's basement floods, she calls her neighbor down the street. The neighbor usually has about 10 minutes before the sewage bubbles up over there.
"Is my basemen finished? Ha," says Price, looking down at where one foot of sewage water recently bubbled up. "I just use it for a sewing space and that's where I do my crafts. Now I've just learned… Everything is in plastic totes and most of the items are off the floor. That's how I've coped."
Flooding in Calumet Park is an age-old problem. The city, located near the Calumet River, is one of many low-lying municipalities that experience issues when it rains.  The reasons for the flooding are varied but are attributable to climate change, which has brought on short yet intense storms, development that has led to the disappearance of permeable surfaces and old infrastructure. Robbins, Dolton, Riverdale, Calumet City and Blue Island also share similar issues. The Center for Neighborhood Technology, via the RainReady program, is working toward a solution for Price and others in similar situations, including installing floodwater solutions and using green technologies to mitigate where water tends to collect and sit. If all goes as planned, CNT's partners will spend millions to improve these areas.
Price feels that the sewer system needs to be the focus.
"I attended the last meeting," says the homeowner, after detailing how many gallons of bleach – four - she will need to clean the floor this time. "They were talking about rain barrels, and well, that's a great idea if you live on a farm in Iowa and you can collect the rain. But if it's raining that much the barrels will fill up and overflow back to the sewer system that can't handle it to begin with."
For Price, the best solution is for the city to build bigger or better sewers. She's too old, she says, to maintain a rain barrel, so it's better for her and her neighbors if the sewers did its job. Plus, to add insult to injury, her roof suffered damage and had to be replaced. Water was coming in from below and above. Meanwhile, she's donning her galoshes and racking up on Clorox as the summer rains intensify.